Birch Bay Has Gone To The Dogs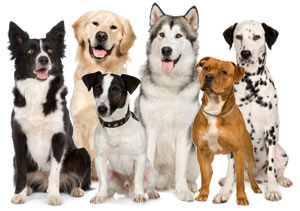 Your dog deserves a vacation too. Make yours and your dog's vacation is more fun come to Birch Bay, Washington. There are miles of walking areas along side the beach at Birch Bay. Birch Bay has businesses that are willing to treat your pooch with a bone biscuit or a drink of water. Some accommodations will allow your pooch to stay with you. Some of you will have to settle for staying at a condo or cottage while your pooch stays at a palace.
There are 8 Mutt Mitt Stations along Birch Bay. Grab a mitt and pocket it. When your dog is ready, you're ready. Dump it when you pass a station.
Birch Bay Dogs
Birch Bay Dogs are a proud lot. They are pointers, setters and support dogs and they all have taught their owners to be retrievers. They have done this by giving their masters a minimum of encouragement. If on your walks around Birch Bay you find hardly any dog poop, it is because their people companions scoop. If you are new to Birch Bay with your dog, visit a doggie doo station and get a couple of doggie doo bags for your pocket, so when your doggie does, you're ready.

Book on Photographing Dogs
The Following is from The Northern Light (local paper)
Pet Care and Health Special Section- How much does your pet really cost-
Pet Care and Health Special Section- Keeping your pet healthy this summer
Pet Care and Health Special Section- How to travel with your pet
| | | | |
| --- | --- | --- | --- |
| | <![if !vml]><![endif]> | | |
| | Mr. Cooper loves cones. | | |