Birch Bay Residents & Friends Speak Up As To Why They Would Love A Library In Birch Bay: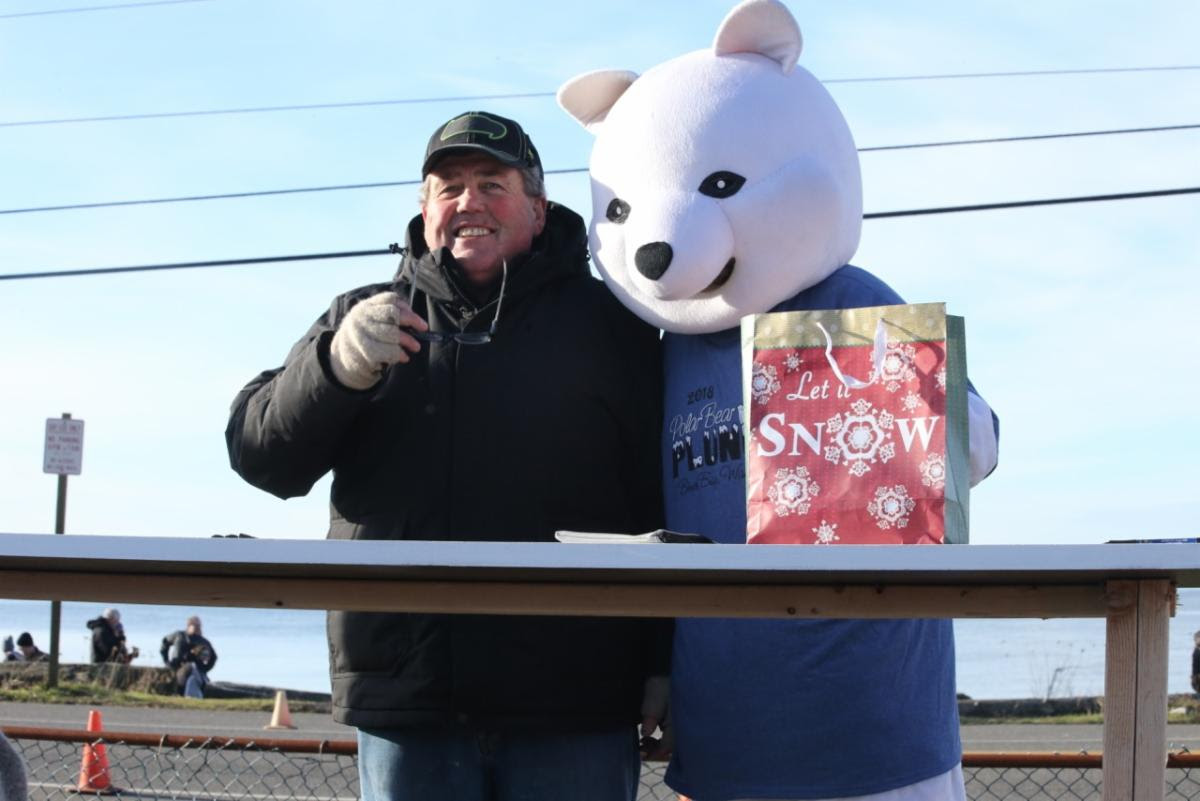 Billy Brown, former President of the Birch Bay Chamber with BRRR the Bear at the Polar Bear Plunge!
"The purpose of the Birch Bay Chamber of Commerce is to promote, encourage and coordinate cooperation and civil exchange between all elements of the community; and to promote, enhance and advocate for the civic, commercial, economic, recreational, and general welfare interest of the Birch Bay area." (Article 2 BBCC Bylaws) "The Board of Directors of the Birch Bay Chamber of Commerce, unanimously support the Birch Bay Vogt Community Library building project. We realize the significant benefit libraries play as educational, community and cultural centers. Libraries bring economic vitality and literacy to a community thus enhancing the quality of life."
I heartily endorse this endeavor and would encourage all to vote YES on February 8th to make this library project a reality for the community of Birch Bay. – Billy BrownDerek Jones – Birch Bay Neighborhood DeputyI would like to express my complete support for the proposed Birch Bay Library. As Birch Bay continues to grow we need a fun and safe place for kids and a meeting place for the community. The new building pays homage to Birch Bay's past while paving the way for a hopeful future. I am excited to see a new public community space along the waterfront instead of residential or short stay lodging such as rentals or a hotel.Thanks for your YES! vote this new year!
Jeff Booth – Retired 5th Grade TeacherThe Birch Bay Library will add significant value to our community, particularly for our children. The lifelong links between literacy and social and economic outcomes cannot be overemphasized. Libraries give children their first experience at being a citizen in their own right and encourage children to become confident and competent people.The Washington State Legislature has appropriated $2M toward building the Birch Bay Vogt Community Library which significantly reduces the cost to the community. This is an opportunity Birch Bay doesn't want to miss!Sharon Shewmake ~ Representative, 42nd Legislative District
"The Birch Bay Vogt Library will be so much more than a library to the community of Birch Bay. It will be a community center and hub bringing economic development, a safe place for kids with education resources and technology, storytimes and activities for toddlers and Moms, activities and lifelong learning for seniors, and a destination library for tourists. Voting is always important…but this time it is essential for the Birch Bay community! " Vote YES – February 8thSharon Shewmake – Representative42nd District
Gaughen Family – Birch Bay ResidentsA Library in Birch Bay would mean the world to our family and especially our children who have grown up frequenting the Bookmobile along Birch Bay Drive. The convenience of not having to drive to Blaine or Ferndale to access a full-sized library and check out books or enjoy story times would be a total game changer. My kids can't wait until they can go to the library and the beach on the same outing!
~Danielle, Kele, Kaya & EmmettPhyllis & Scott Johnson – Birch Bay Village ResidentsThe community library is an asset for all citizens. All ages in the community can have access to a wide range of reading materials. All three of our sons loved the library and are still avid readers. If Murdoc could read, he would be checking out books as above!
Support from Bob & Carol Ogilvy – Birch Bay Property Owners from Canada.
Our Canadian family has owned property in Birch Bay for 45 years. We have seen this wonderful ocean community grow significantly over time. Having a library in Birch Bay would be very convenient and beneficial to all, as it would enhance one's enjoyment of reading, love of learning and growth of knowledge. For an area that currently has no central hub, the Birch Bay Vogt Community Library will be where neighbors gather. Even though we can't vote, we are excited to give back and invest in the community we have loved for so many years. We sincerely hope Birch Bay will vote yes on Feb. 8, in order to bring a much needed community resource to our growing area.Carol Sandvig & OttoI am very excited about a Library for my Birch Bay community.A place to gather, surrounded by Books, Information, and friends, a place to feed our minds and souls.
Doralee's grandkids enjoying summers and Chamber events at Birch BayDoralee Booth – Chamber Director & Longtime Resident of Birch Bay"…as parents (and grandparents), we have to find the time and the energy to step in and help our children love reading. We can read to them, talk to them about what they're reading, and make time for this by turning off the television set ourselves. Libraries are a critical tool to help parents do this. At the moment that we persuade a child, any child, to cross that threshold, that magic threshold into a library, we change their lives forever, for the better. It's an enormous force for good." ~ Barack Obama~Aunt Betsy Just – Birch Bay Village ResidentMy kids and I are sooooo excited about the new Birch Bay Library! The kids and I love to read and all have our library cards ready to go! My mom was a librarian and I spent my childhood in libraries. Can't wait to share with this new generation!
Taruja Borker-Phadke and NishadNishad has always loved reading books, especially about animals. His favorite books are about Biscuit (The Dog) and Paddington Bear. Having a library nearby where Nishad could explore books and other activities, listen to stories would really help him grow.
Support from Debbie VanderVeen & Family~ From Everson, WAWow! Birch Bay, I am so pleased to hear the news about the upcoming Birch Bay Library.Although my address is Everson, please know your library will be a destination library to me!Please allow a wide view of the Bay. I am thrilled to know we may be able to travel to Birch Bay, enjoy a lunch, and refresh at your new library. Comfortable seating at a sunny (or, rainy) window for reading would be ideal. Even a community puzzle table near a window view would be enticing. Please think of us who may travel further to utilize your library. Exciting! This is one of the best things I have heard recently! I am certain others will be delighted, like me.Libraries are a part of a town's identity…
"Beyond their cultural value and the sense of community they create, public libraries are also vital to a local economy. Libraries are economic development agents, working to address such issues as literacy, workforce training, small business vitality and quality of life."
Click Here For More Information
BIRCH BAY CHAMBER OF COMMERCE
birchbaychamber.com
‌
‌