Spanish Explorers
SPANISH EXPLORERS VISIT BIRCH BAY EARLY JULY 1791
GERALD ALLEN STEGE MARCH 1, 2021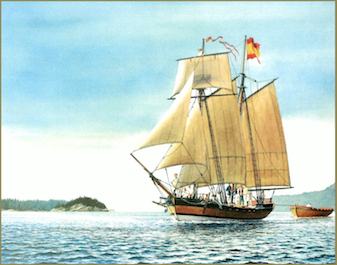 Twenty three year old Spaniard José María Narváez from Cádiz, Spain set out from Discovery Bay on the Strait of Juan de Fuca on July 1, 1791. He commanded the tiny schooner Santa Saturnina and a long boat to make what is understood to be the very first European exploration of our northern Salish Sea. (1)
Narváez's 1791 Spanish exploration was completed a full year before the next earliest European explorer, Britain's George Vancouver, would enter these waters. In 1791 Spain's world wide empire was in serious decline. Spain and Britain were almost at war. Both countries were exploring this area looking for the elusive Northwest Passage to the Atlantic Ocean.
Narváez's log of their July 1 to July 22 exploration remains lost. But the navigational chart made by Narváez's Pilot Juan Carrasco survives. Carrasco's chart "Carta que comprehende…" tells us where they went and what they saw. Depth soundings and good anchorages were recorded. Spanish names were given to our islands, islands only then known to People of the First Nations. Numerous settlements of the First Nations were noted by Carrasco on his chart. The closest First Nations settlements to Birch Bay were seen where the Campbell River empties into Semiahmoo Bay, just south east of White Rock, and on Samish Island on the north end of Padilla Bay.
After entering Rosario Strait and anchoring in Chuckanut Bay south of Bellingham, "Narváez' next anchorage was Puerto del Garzon (Birch Bay)". (1) Apparently while in Birch Bay they noticed Terrell Creek feeding into Birch Bay, went ashore, and followed Terrell Creek upstream until they reached Terrell Lake. Our Terrell Lake appears on Juan Carrasco's original 1791 chart as Garzon's Laguna.
Looking out from Birch Bay to the south west we can see the southern tip of Saturna island, still named for Narváez's schooner Santa Saturnina. On the south west side of Saturna island lies a small bay called Narváez Bay.
The small 32 foot 5 foot draft Santa Saturnia schooner was outfitted with eight two man oars. It was accompanied by a 28 foot longboat with another thirteen oars.(2) That's a lot of oars, but the crew of the Narváez expedition had a lot of man power: 30 Mexican sailors plus reportedly five to eight Spaniards. (1) The Santa Saturnia was launched in 1788 as the Northwest America. She was built by Chinese carpenters working for the British Navy in Friendly Cove on the northwest coast of Vancouver Island. Soon after launching, she was seized by the Spanish Navy and rechristened the Santa Gertrudis la Magna. In 1791 after several trips between Nootka Sound and San Blas, Mexico (99 miles north of Puerto Vallarta), plus a trip to Hawaii and a series of major reconditionings including the laying of a new keel, she was christened in Friendly Cove as the new schooner Santa Saturnina.
(1) Jim Mc Dowell, José Narváez: The Forgotten Explorer, (The Arthur H. Clark Company, 1998), 55.
(2) Ibid. 51.
(3) Ibid. 167-168.